mondoFoto
super 8 instruction manual diagrams

Canon AutoZoom 512XL Electronic



Focus ring; use split image in viewfinder for critical focus
Macro Mode pull up and hold while turning lens to engage (lens does not zoom in macro mode)
Zoom ring
Running speed frames per second
Footage counter
Battery test
Eyepiece diopter correction (inside eyeshade) turn until split image is sharp
Film door release button (inside eyeshade)
Trigger
Manual exposure control, pull out to engage, turn to set aperture
Switch Off, Run, Run Lock, Single frame. Turn Off to conserve battery (electric eye).
Film motion indicator
Jack for remote control (not a cable release, a switch on a wire). Note: press remote button to fire, press & slide to lock.
Canon Auto Zoom 512 XL Electronic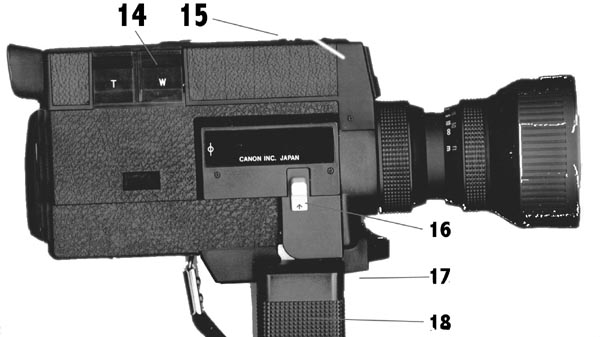 Power Zoom
Daylight Filter release. IMPORTANT: insert red "key" or screw in movie light before using color daylight film under tungsten lamps. This removes the built-in 85A color correction filter.
Lock for folding handle
Red "key" for daylight filter release
Batteries insert into grip